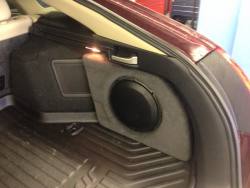 Are you looking for higher quality car stereo speakers? Do you want to upgrade your vehicle by adding a custom car audio video system? No matter what kind of improvements you're looking to make to your car audio electronics, Parkway Car Stereo can help. We're proud to offer professional mobile audio installation to drivers in Long Island and the surrounding communities. Whether you're looking to add more bass to your existing system or you simply want cleaner sound, we can provide you with some of the best in-car audio equipment and installation workmanship available. Our car audio experts can help you create the sound system of your dreams, so call or e-mail us today to learn more about your options and get a free estimate!
When you turn to Parkway Car Stereo for car audio and video systems, you can look forward to choosing from our wide range of top-notch products, or, if you prefer, you can purchase equipment on your own and bring it to us for installation. Our licensed and insured car audio video experts are equipped to install:
CD and MP3 players
Speakers
Subwoofers
Amplifiers
Stereo decks
Tweeters
Satellite radios
And more!
We install all of the car audio components we handle with high-quality copper wiring, so you can expect excellent performance and amazing sound from your new car stereo system. Regardless of what your needs for car audio electronics are, we'll be able to help you find a custom solution that will make your driving experience much more enjoyable. What's more is that we'll be able to do it with great efficiency, so you can get out on the road and enjoy your new stereo system that much sooner.
Experienced Car Audio Electronics Pros
The performance of your mobile audio system will depend largely on its installation quality, and, for that reason, you should only entrust installation to experienced professionals. When you hire Parkway Car Stereo to handle your in-car audio needs, you'll benefit from our extensive experience with car audio and video systems. We've been in the mobile electronics business for over 30 years, which means you can trust us to handle your installations with precision and care. We proudly stand behind the work we do, and all of our installations come with a lifetime guarantee. If you want peace of mind when adding new car stereos to your vehicle, working with our seasoned mobile electronics experts can help you feel at ease. For amazing car stereos, car audio accessories, and more at an affordable rate, call Parkway Car Stereo today!