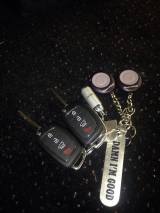 Looking for an awesome gift idea? Our remote car starters are perfect as birthday, holiday, or any-occasion presents! Parkway Car Stereo offers affordable prices on remote starter products and installation, and with our great discounts and specials you can save even more. Give the gift of convenience this year: Call now to get car stater installation from our pros!
There's nothing worse than getting into a freezing car in the morning. If you want to say goodbye to chattering teeth—or give the gift of warmth and convenience—a remote starter from Parkway Car Stereo is the ideal solution. With a car starter, you can easily warm up your vehicle before you take one step outside your door. Remote starters also work great in the summer months when your car can feel like a sauna. For complete comfort year round, trust the technicians at Parkway Car Stereo to provide you with expert remote car starter installation. Contact us today to learn more about your options for a new automatic car starter.
Remote car starters are a great idea for any vehicle, given that they can help you protect your vehicle's engine by warming it up before you drive, as well as increasing driver comfort. In fact, with most car starters, you'll gain more than just the ability to start your vehicle before you get into it. You might also benefit from features including:
Car alarms
Keyless entry
Time control options
Cut-off switches
And more!
When you come to Parkway Car Stereos for your remote starters, you'll have a large selection of high-quality products to choose from. We even carry remote car starters that you can control from your smart phone, so starting up your car is as simple and easy as using your cell phone. If you're not sure which type of car starter is right for your vehicle and your needs, the experienced pros at Parkway Car Stereos will help you to select the best match. With over 30 years of experience in the mobile electronics industry, you can trust that we'll be able to provide you with expert advice.
A remote starter is not only a great addition to a personal vehicle, but it can also be a smart investment for fleet vehicles as well. If you want to make sure that your fleet of vehicles is well maintained and that your drivers are comfortable, then adding car starters is the perfect way to do so.
No matter what type of car starter you need, the licensed and insured team at Parkway Car Stereos can provide it for you. Call or e-mail us today to get more information on a particular type of remote car starter or book your appointment for service! We are committed to using our experience to bring you affordable mobile electronics and speedy turnarounds.