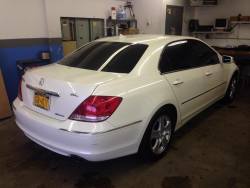 When you want to protect your car, truck, or SUV from the harshness of the sun's UV rays, then your best bet is to install professional-grade window tinting from Parkway Car Stereo. In Long Island, window tint is a true necessity if you want to keep your vehicle's interior from overheating or your upholstery from fading. That's why we have a fantastic selection of sleek automotive window tinting designed to provide your car with greater sun protection, increased privacy, and a much more comfortable temperature. Custom car window tinting offers unparalleled benefits for vehicles of all different makes and models, so if you're ready to ride in style and comfort, call Parkway Car Stereo today.
Have you ever gotten into your car on a hot summer day only to find that it feels like a sauna inside? Have you ever felt the skin on your arms or face get warmer and warmer in the sun on an extended road trip? These effects are directly due to the intense solar heat and dangerous UV rays emanating from the sun, and the only way to reduce their effects on the interior of your vehicle to install automotive window tinting as soon as possible. At Parkway Car Stereo, we can offer you car window tint styles that will:
Stop up to 99% of incoming UV rays
Prevent interior fading and sun damage
Reflect solar heat
Keep your vehicle's interior cool
Increase privacy control
Enhance your vehicle's appearance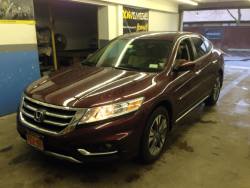 You spend a lot of time in your vehicle on a day-to-day basis. Why should you have to suffer from excessively warm temperatures or excessive exposure to skin cancer-causing UV rays? Natural sunlight is a beautiful thing, and with the addition of our car window tinting, you'll be able to enjoy its beauty without inviting any of its underlying dangers. If you're ready to outfit your car, truck, or SUV with the window tinting you need, Parkway Car Stereo is here to help.
When it comes to the installation of your automotive window tinting, it's important not to take any chances with an amateur technician. Peeling, bubbling, and cracking are all likely to occur when your car window tint is improperly installed, leaving you with looks and performance that are less than satisfying. The only way to ensure that your car window tinting is installed with the utmost precision and long-lasting appearance is to have the professionals at Parkway Car Stereo at the helm. We'll hand cut your window film, ensuring that it's the right size for your vehicle's windows. To receive a free estimate, call today! Better yet, stop by the showroom and check out our window tint selection in person.
Comprehensive Window Tinting Services
In addition to providing custom auto window tint for customers in Long Island, our team of tinting experts is proud to offer services for residential, commercial, and marine applications. Whether you need tinting for your windows in your home, business, or on your boat or car, we're the pros who can provide you with high-quality results you can be proud of. When you want fast results and affordable pricing for your window tinting, Parkway Car Stereo is here for you!