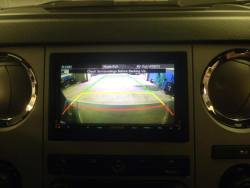 Are you constantly craning your neck to see if there's anything behind you when you back out of your driveway? Are you worried about the safety of your children while they play on your front lawn? Fortunately, there's an easy way to calm these worries. For extra security and safety when you're behind the wheel, you need a wireless backup camera from Parkway Car Stereo. A backup camera will give you a clear view of whatever is behind your vehicle, so you won't have to worry about hitting something you can't see. If you're ready to protect your vehicle and your family, call on Parkway Car Stereo today for a top-quality rearview mirror camera or any of our other backup systems!
At Parkway Car Stereo, you can choose from an array of backup cameras designed to meet your safety needs. In addition to options that integrate with your existing video system screens, you can also choose a rear view camera complete with screen and sensors or even a camera that displays right in your rearview mirror. No matter which backup camera system you choose, you can rest assured that our licensed and insured technicians will install and connect it with the utmost care. We're committed to complete customer satisfaction, so we'll take great pains to give you some of the best installation craftsmanship available in New York. For impressive results and fast turnaround times, you can trust Parkway Car Stereo for expert rear view camera installation.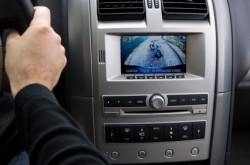 Adding a backup camera to your vehicle is a great way to give yourself peace of mind when you're behind the wheel. The thought of getting into an accident or hurting a pedestrian is enough to stress any driver out, but you can limit this anxiety by adding the right safety features to your vehicle. These are great for commercial fleets as well, as they can minimize liability while increasing safety for your drivers. You can help ensure your safety and the safety of others with a rear view camera from Parkway Car Stereo. Our backup cameras and sensors can help prevent you from running into:
Nearby vehicles
Pedestrians
Household pets or animals
Mailboxes
Fire hydrants
Parking structures
And more!
If you're ready to learn more about how a wireless backup camera can help you, our team is ready to help you increase your safety. Call or e-mail us today to get a free estimate for our services!
When it comes to your safety and the safety of those around you, a rearview mirror camera is a wise investment. When you turn to the pros at Parkway Car Stereo for a new backup camera system, you can trust that you're getting your money's worth. Not only do we offer affordable pricing and fast turnaround times, but we can also guarantee top-quality installation for your rear backup camera. We've been in the business for over three decades, and we're ready to use our expertise to help you stay safe when you're driving in reverse. Call us today to get your new car backup camera or to learn more about our lifetime installation warranties!