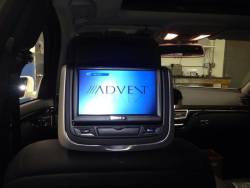 Are you tired of dealing with distractions from your children while on road trips? Are you looking for an easy way to impress your other passengers and help them pass the time in your vehicle? If you want to keep your kids occupied when you're on the road or you're interested in a way to show off for friends or colleagues that accompany you on the road, a car DVD system from Parkway Car Stereo is your answer. We offer custom car audio video systems for drivers in Long Island and the surrounding areas. If you're ready to up the entertainment options in your vehicle, call on our mobile video experts today. We're ready to set you up with a top-quality car video and audio system!
When you want the best options for an in-car video system, Parkway Car Stereo is here to help. Our team of licensed and insured mobile electronics pros will help you design and install an amazing mobile video system. We offer a wide range of options for your car audio and video system, including:
Car DVD players
Headrest monitors
In-dash screens
Flip-down mounts
Video gaming inputs
Remote controls
And much more!
Whether you're looking for a car video system for your personal vehicle or a fleet vehicle, our team of mobile electronics experts can provide you with a system that meets your specific needs. From a simple in-car DVD player for the kids to a more advanced in-car video system for your company vehicles, we have your needs covered.
Fast Turnaround for Mobile Video Installations
When you're looking for a car DVD system for your vehicle, the odds are that you won't want to spend much time waiting for your system to be installed. If you're like most drivers out there, you need access to your vehicle every day, and waiting ages for a new in-car DVD system to be installed simply won't be possible. When you turn to the experienced pros at Parkway Car Stereo for the installation of car DVD players, you can count on your vehicle being ready quickly. Our qualified installers have over three decades of experience in the industry, and that means we've perfected the art of installing mobile audio and video systems efficiently and professionally. If you're ready to add to your in-vehicle entertainment options and you want fast results and affordable pricing, Parkway Car Stereo is here to help. And, of course, our quick turnarounds never get in the way of providing each and every customer with precision results, superior installation, and a mobile video system that all around meets your needs!
Call us today to get a free estimate for car DVD players and other mobile video components.