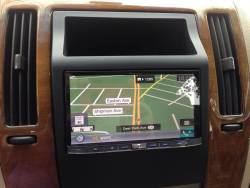 Have you ever tried a shortcut only to find yourself miles from where you need to be? Have you ever been so nervous looking at a map while driving that you've accidentally missed a turn? Are you tired of getting so lost that you have to stop and ask for directions? If you've found yourself in these situations or similar ones in the past, a car GPS from Parkway Car Stereo can keep you on track during car travel. With one of our top-of-the-line navigation systems installed in your vehicle, you'll find it easy to zip from destination to destination, regardless of whether you've been there before or not. Call us today to get a free estimate on our mobile navigation installation services!
If you're tired of getting lost, then a navigation system from Parkway Car Stereo is the best solution to your problem. With turn-by-turn directions, you won't find yourself scratching your head or have to pull over to look at an impossible-to-fold paper map. Instead, you'll easily be able to access a wide range of different routes to your destination with the touch of a few buttons on your in-dash navigation system. What's more is that you'll be able to identify points of interest, nearby restaurants, gas stations, and more along the way, so you'll never have a difficult time finding what you need when you're on the road. With some GPS navigation systems, you can also benefit from:
Audible and visible prompts
Automatic rerouting of wrong turns
Estimated time of arrival
Street views
And much more!
With help from the licensed and insured pros at Parkway Car Stereo, you'll be able to choose the right navigation system for your vehicle. We'll help you to evaluate the type of driving you normally do and pick a car navigation GPS that will best meet your needs and your budget. Whether you end up choosing an in-dash navigation system or a portable navigation system, our team has the expertise necessary to offer you flawless installation.
GPS Navigation Systems for Fleet Vehicles
In addition to providing car GPS systems for personal use, Parkway Car Stereo also offers car navigation GPS installation for fleet vehicles. Adding a navigation system to each of your fleet vehicles can make it easier for your drivers to stay on schedule with their deliveries, locate addresses for service calls, and more. In addition, some GPS navigation systems can also work as a means of tracking your fleet, so you'll always know where you drivers are and what their estimated times of arrival will be. Knowing this can help you to better manage your fleet as well as instill great peace of mind in your customers, and that can do wonders for your business. To learn more about your options for navigation systems, call Parkway Car Stereo today for more information!