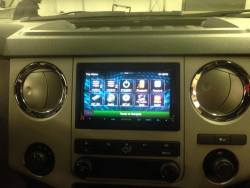 When it comes to adding mobile electronics to your vehicle, Parkway Car Stereo is the premier source for quality products, expert craftsmanship, and speedy turnaround times. Whether you're in the market for a new car audio system, backup camera, or car alarms in Long Island or the surrounding communities, we're the pros you can count on to deliver impeccable results. When you turn to us for help enhancing your vehicle, we'll come up with a customized solution that meets your needs. From window tinting to radar detectors, we have what you need to improve your ride. Call or e-mail us right away to learn more about your options for a new car stereo, mobile video system, window tinting, and much more!
Comprehensive Mobile Electronics Services
Parkway Car Stereo is your one-stop shop for mobile electronics to enhance your car, truck, or SUV. We've been in the business since 1981, and in that time we've helped countless customers increase the comfort and security of their vehicles. We offer a wide range of products and services, including:
Car stereo systems
Backup cameras
Car alarms
Navigation systems
Mobile video systems
Remote starters
Radar detectors
Window tinting
Marine electronics
And much more!
When you turn to us to meet your needs for mobile electronics, we'll offer you some best products on the market from the vast selection at our shop. Or, if you prefer, we'll install components that you've already purchased. Above all else, we're committed to customer satisfaction, and we'll work hard to bring you installation services of the highest possible quality.
Experienced Car Audio and Video Experts
When it comes to adding a car audio system to your vehicle or marine electronics to your boat, nothing can compare to the flawless results you'll get from the experts at Parkway Car Stereo. We have over three decades of experience to rely on, and that means you'll get top-of-the-line results no matter what we're working on for you. From the steady hand it takes to apply window tinting to the precision required to install in-dash radar detectors, you can count on us to deliver solutions that will last. Don't put something as important as your vehicle into the hands of inexperienced car audio and video installers. Instead, put your trust in the qualified installers at Parkway Car Stereo. Our team will work tirelessly to make sure that your vehicle is both safe and comfortable. We offer free estimates and emergency services, so don't hesitate to contact us right away!